Heart of Borneo (HoB) Initiative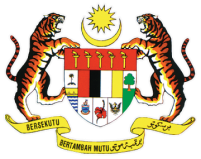 HEART OF BORNEO (HOB) INITIATIVE
WHAT IS HOB INITIATIVE?
Heart of Borneo (HoB) Initiative is a voluntary transboundary cooperation between Brunei, Indonesia and Malaysia to enable conservation and environment protection while enhancing sustainable development that improves the welfare of those living on the island. The three ASEAN nations cooperation was officially launched in Brazil on 27 March 2006. On 12 February 2007 the Minister of Natural Resources and Environment, Malaysia; the Minister of Forestry, Republic of Indonesia and the Minister of Industry and Primary Resources, Brunei Darus-salam, signed and jointly issued a Declaration in Bali, Indonesia.
In view of the global concerns and controversy about the tropical forest development, the long term objective of the HoB Initiative, as enshrined in the Bali Declaration is as follows:
"With one conservation vision and with a view to promote peoples' welfare, we will cooperate in ensuring the effective management of forest resources and conservation of a network of protected areas, productive forests and other sustainable uses".
In Sarawak, the HoB covers 2.689 million ha over a contiguous block along Sarawak's boundaries with Kalimantan and with Sabah and Brunei. The HoB is fully in line with existing policies by both state and federal government.
OBJECTIVES OF HOB INITIATIVES:
To conserve the last expanse of contiguous forest in Borneo to:-
1. Maximize Transboundary Linkages
2. Promote Expansion of Protected Area Networks
3. Maintain Forest Connectivity
4. Ensure Sustainable Land Use Practices
THE 5 PILLARS OF HOB SARAWAK
The implementation of HoB Initiative is based on the 5 Pillars as following;
Pillar 1 - Sustainable Forest Management
Focusing on maintaining the balance between forest used and environmental protection.
Pillar 2 - Ecotourism Based on Culture, Adventure and Nature (CAN)
Focusing on developing the ecotourism involving the local communities to promote conservation and enhance socio-economic well-being.
Pillar 3 - Conservation of Biological Diversity
Focusing on effective management of Totally Protected Areas within the Heart of Borneo areas.
Pillar 4 - Sustainable Landuse/ Agriculture
Focusing on sustainable development of rural communities through wise management of natural resources and agriculture.
Pillar 5 - Community-Based/Rural Poverty Eradication Program
Focusing on the welfare of rural communities through effective management of Totally Protected Areas, production forests and agriculture.
INSTITUTIONAL FRAMEWORK FOR HEART OF BORNEO (HOB) INITIATIVE
Institutional Framework For Heart Of Borneo HoB) Initiative in Malaysia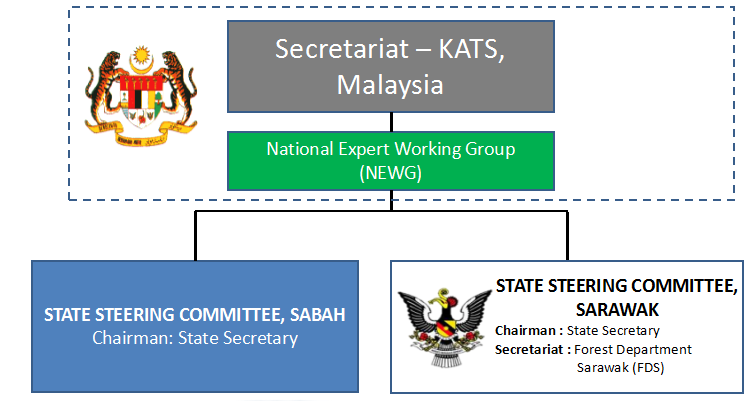 MAP OF HOB SARAWAK
HoB Sarawak with the earliest total area of 2.1 million hectares is divided into three regions namely Northern Region covering the Miri and Limbang Divisions; Central Region covering the Kapit and Belaga Districts of the Kapit Division; and Southern Region covering Sri Aman, Sarikei and Sibu Divisions as well as the Song District of the Kapit Division.
In 2018, the extension area of HoB Sarawak to 2.69 mil hectares was approved by the State Cabinet. The expansion involves the area from Batang Ai to the western region of Sarawak. This covers the Kelingkang Range, Gunung Apeng National Park, Bungo Range National Park, Gunung Pueh National Park, Kubah National Park, Gunung Gading National Park, Samunsam Wildlife Sanctuary, Matang Wildlife Centre, Kuching Wetland National Park, Bako National Park, Sampadi National Park, Santubong National Park and Tanjung Datu National Park.
LANDUSE IN HOB SARAWAK
NO.

LANDUSE

AREA (HA)

REMARKS

1.

Permanent Forest Estate (PFE)

1,431,736

33 % of total PFE in Sarawak

53% of total PFE within HoB

2.

Totally Protected Area (TPA)

441,240

50% of total TPA in Sarawak

3.

Stateland Forest

681,127

4.

Plantation

89,206

5.

Settlement

32,340

6.

Waterbody/Reservoir

14,155

Total

2,689,804